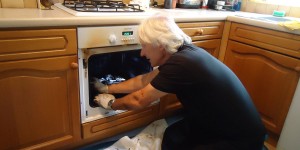 So it's been just over a month now since I began my journey with UltraClean Ovens and I am pleased to announce I am pass my 20th customer and counting, performing oven cleaning in Knutsford.  My customers have given me a great positive feedback, and  during my visits offering me tea and biscuits too, which I have gratefuly accepted!  I might need to cut down on the biscuits soon though!
Last week I received my first job oven cleaning in Nantwich via a recommendation from a previous customer.  Since the beginning of my venture I have encountered many challenges including cleaning a large Rangemaster oven, which did in deed prove to be challenging, but none the less, was transformed into a sparkling clean, showroom looking oven, the customer was so pleased they even gave me a tip!
It seems that my marketing has worked, and I am now advertising oven cleaning in Northwhich and this is working well with bookings  coming in almost daily now, which is keeping me on my toes and I have prepared a few cleaning solutions of my own which have been proven to work excellently on my previous jobs, although they still need a large touch of the elbow grease to get the results the customers are looking for!
I am  excited to see what next year has in store for me and I look forward to my bookings coming up in the future!   If you would like me to also visit your property and convert your oven into a shining new appliance, then please give me a call now on 07927 808 933